From the articles
Nigeria's Proposed 2021 Budget: Budget of economic recovery and resilience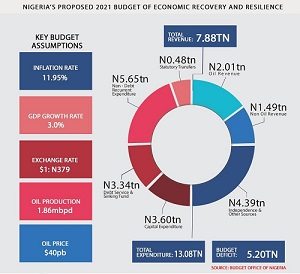 Following the recent release of the 2021 budget by the President of the Federal Republic of Nigeria, there have been concerns over Nigeria's rising debt as the nation plans to fund the 2021 budget deficit with N4.28 trillion new borrowings. The proposed new borrowings represent about a third of the proposed budget.
---
Diversifying the revenue-generating options of the country is what all the democratic governments in this country have always proposed but none has taken action. This is one of the major problems of our economy. We have consistently focused on oil as the major basis for revenue and foreign exchange when investment can be done in order areas and plan for the future. Every government has budgeted mainly for immediate gain and not for the future.
The System still harbors a lot of waste across the three tiers and levels of government. The cost of governance at all levels is unbelievably high as if the country is doing economically well. The funds could better be channeled to strengthen our governance systems.
The 2021 Budget, which is themed the "Budget of Economic Recovery and Resilience", is determined to deliver on the Government's Economic Sustainability Plan goals, accelerate the pace of Nigeria's economic recovery, promote economic diversification, enhance competitiveness and ensure social inclusion. I do not see how this laudable purpose on paper can be achieved with the same old way of planning and budgeting.
---