From the articles
BUDGET IMPLEMENTATION: A BANE IN THE NIGERIAN ECONOMY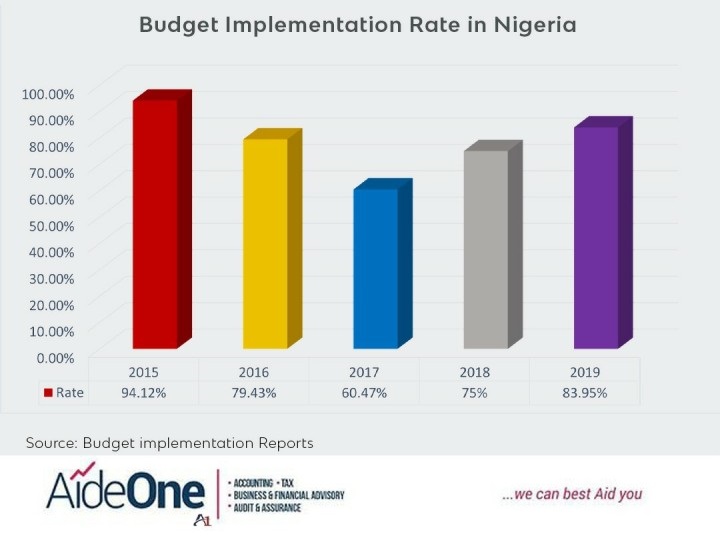 One of the major reasons for the under-development in Nigeria is the lag in a faithful implementation of government financial plans. There has not been corresponding or cognitive value for money in government fiscal policy.
---
The government budget is huge in Naira terms but its execution has been the bane of the economy. It is in evidence that a committee may be formed to kill an ant which underscores the numerous wastage that comes with budget allocation, appropriation policies, and government expenditures.
Thankfully, the Buhari administration has successfully restored the one-year budget cycle end to end, but at execution, there are various challenges thereby culminating into a snail-paced economic growth. For instance, the budget implementation rate dropped from 94.12% (2015) to 83.95% (2019) during Buhari's administration.
While it may be said that our resources are less than our projected expenditure for economic development, corruption even takes more than half of the limited resources that should have been pushed into the economy. The government funds unnecessary ventures like the wage bill of the national assembly to the inefficient workforce and staff.
The selling of crude oil has always been the only source of revenue in the Nigerian government. Other sources of revenue resources before the discoveries of crude oil had been abandon. The government failed to invest in growing revenue resources. The best way to derive the revenue of a country is to develop the human capital and natural resources of the nation. Our government has not been investing our funds in developing Nigeria's untapped resources. The government has been spending money on recurrent expenditures that will not turn to investment for the future.
Another problem is the fact that the policies of the government haven't been geared towards how to boost and raise revenue for the economy. Most of the policies of the government have just been focused on mere expenditure that doesn't lead to economic development because of most of our political leader's lack of commitment.
Government should tackle corruption head-on and set up controls that will reduce access to our commonwealth by a few greedy people. The available funds should also be invested into core investments that would generate more income for the government.
It is recommended that due processes and value-for-money audits should remain in our policy for economic efficiency and effectiveness in the use of resources if we must grow as a country.
---