"Coming together is a beginning; keeping together is progress; working together is success." – Henry Ford
Abraham Popogbe
Partner
Accounting & Financial Advisory
Abraham is a seasoned Consultant, Coach, and Creator. An expert in Accounting, Financial, Business, and Tax Advisory with special skills for Business process development. Before joining Deloitte & Touche in April 2012, He was in the Financial Reporting and Tax unit of MTN Nigeria for more than Two (2) years. He is an alumnus of Lagos State Polytechnic and Associate of both the Institute of Chartered Accountants of Nigeria (ICAN) and Chartered Institute of Taxation of Nigeria (CITN).
As a Consultant, He has led many IFRS engagements and solved many advisory issues for Multinationals, Listed Companies, Public Companies in Energy and Power, Automobile, Manufacturing, Transport, Real Estate, Telecommunications, Hospitality, Media and Entertainment Sectors, and Public Sector entities and International Donor Agencies. He also led the Deliotte Africa Private Initiative that focused on building advisory solutions for small and medium scale business.
As a Coach, He has guided many Professionals, Company Executives, and Professional Accounting Firm Owners on many exciting discoveries in accounting and business. He was a Senior Facilitator for many years in the Deloitte IFRS Academy and School of Excellence. He led several board trainings on the implementation and impact of IFRS standards. Deloitte partnered with Tony Elumelu Foundation to mentor and help business owners, He was part of those in the mentoring team and has kept relationship with the foundation.
As a Co-Creator, in partnership with Electrode, He developed a dedicated accounting solution for media content production; a process He designed with the help of His project team during His Four (4) years of advisory with Multichoice/M-Net Africa. In Partnership with Deloitte Spain, a general-purpose ERP was developed and deployed for Africa use.
Sometimes in 2016, He began to find joy and fulfillment 'helping' small/medium businesses and start-ups to build lasting finance structures for their businesses and individuals who want to 'act right'. In April 2020, He left Deloitte and joined to start fully AideOne Consulting, to wholly give time to feed this passion.
He is purposefully married to Omowunmi and blessed with an amazing Daughter, Iyinoluwa and a Son, Moyinoluwa.
Olajide Yesufu
Partner
Tax & Regulatory Advisory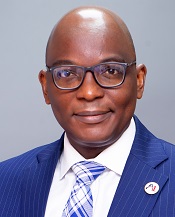 Olajide Yesufu is an astute Tax Professional with almost thirty years of expertise in tax planning, tax risk management, tax strategy and regulatory compliance. Olajide has hands on experience in tax audit and assessment, tax due diligence, resolution of tax issues, financial and accounting reviews, tax structuring, review of business regulatory issues, PAYE tax, Value Added Tax (VAT), Withholding tax (WHT) and other strategic transactions.
A Fellow of both the Institute of Chartered Accountants of Nigeria (FCA) and the Chartered Institute of Taxation in Nigeria (FCTI). Olajide holds a Higher National Diploma in Accountancy & Finance from Yaba College of Technology, Lagos and is an alumnus of the PricewaterhouseCoopers Tax Academy. He also holds a Professional Certification in Transfer Pricing from the International Institute of Tax & Finance (IITF), South Africa.
He has worked extensively in the Telecommunications sector and has successfully implemented organizational-wide tax strategies. Olajide has a record of success in steering team productivity and efficiency through best tax practice and internal policies, processes and procedures. He pioneered the tax team at MTN Nigeria where he also took on a job rotation assignment as Group Tax Manager with the MTN Group, Johannesburg South Africa. Prior to joining MTN Nigeria, Olajide spent almost thirteen years at the Federal Inland Revenue Service (FIRS) and rose to the position of Senior Inspector of Taxes at the Tax Audit & Investigation Branch of the FIRS.
He voluntarily exited MTN Nigeria Communications Plc as the Senior Manager and Head of the Tax department to join the ethical solution-oriented firm, AideOne Consulting, which he co-founded. Olajide brings with him a comprehensive and robust experience in leading our Tax and Regulatory advisory Services with keen interest to support small and medium businesses and entrepreneurs desirous of building sustainable compliance culture in preserving value within sound business structures that can deliver measurable returns. He is happily married and blessed with children. Olajide values integrity, relationship, service and active collaboration.