From the articles
NIPC launches compendium of investment incentives in Nigeria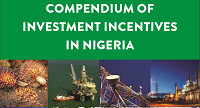 Nigeria Investment Promotion Commission (NIPC) in collaboration with Federal Inland Revenue Service (FIRS), on Friday, 3 November 2017, published the first edition of the Compendium of Investment Incentives in Nigeria (the Compendium).
---
The launch of the Compendium further demonstrates Federal Government's commitment to encouraging investments in Nigeria, in line with the objectives of the Economic Recovery and Growth Plan, as well as the Medium Term Expenditure Framework and Fiscal Strategy Paper for 2018 to 2020.
Okechukwu Enelama, Minister of Industry, trade and investment, Kemi Adeosun, Minister of finance, and Aisha Abubakar, Minister of State for industry, trade and investment, facilitated the preparation of the compendium.
The Compendium is a compilation of tax, tariff, export and sector based incentives, approved by Federal Government of Nigeria and supported by various legislation. NIPC, through the Compendium, aims to provide existing and new investors relevant information on available incentives with the overall objective of promoting new and incremental investments in Nigeria.
The Compendium is based on the 2016 Fiscal Policy which cuts across all industries and sectors. However, this first edition covers the following 5 sectors:
Agriculture / Agro-Allied
Solid Minerals
Manufacturing
Tourism/ Hospitality
Oil & Gas
It is expected that the Compendium will be updated periodically, as more incentives are introduced by the Federal Government.
It is also important for existing and potential investors to seek proper guidance in evaluating the benefits they stand to derive from taking advantage of any of the incentives in the Compendium, in order to make informed investment decisions.
Download the full details here:
---